$75,000 - $25 Million
Up to 80% LTV
Starting at 9.49%
Closing: 3 - 7 Days

$75,000 - $10 Million
Up to 90% LTC
Starting at 9.49%
Closing: 7 - 14 Days
$75,000 - $5 Million
Up to 80% LTV
Starting at 6.50%
Closing: 14 Days

$500,000 - $150 Million
Up to 80% LTC
Starting at 9.49%
Closing: 21 - 28 Days

$500,000 - $25 Million
Up to 75% LTV
Starting at 9.99%+
Closing: 14 - 21 Days

$250,000 - $10 Million
Up to 80% LTV
Starting at 6.50%+
Closing: 14 -21 Days
Partner with America's

FASTEST

Hard Money Lender
Capital Funding Financial has been featured in:




Why Capital Funding Financial?
No Drama

.

No Red Tape

.

No Endless Docs

.


We Make Private Lending Simple
Fast Approvals
Streamlined Underwriting


Approval in 24 Hours
Close in as little as 3 days
Easy Process
No Appraisal Required
No Tax Returns Needed
No Minimum Credit Req.
Reliable Partner
In House Capital
30+ Years of Experience
Direct Private Lender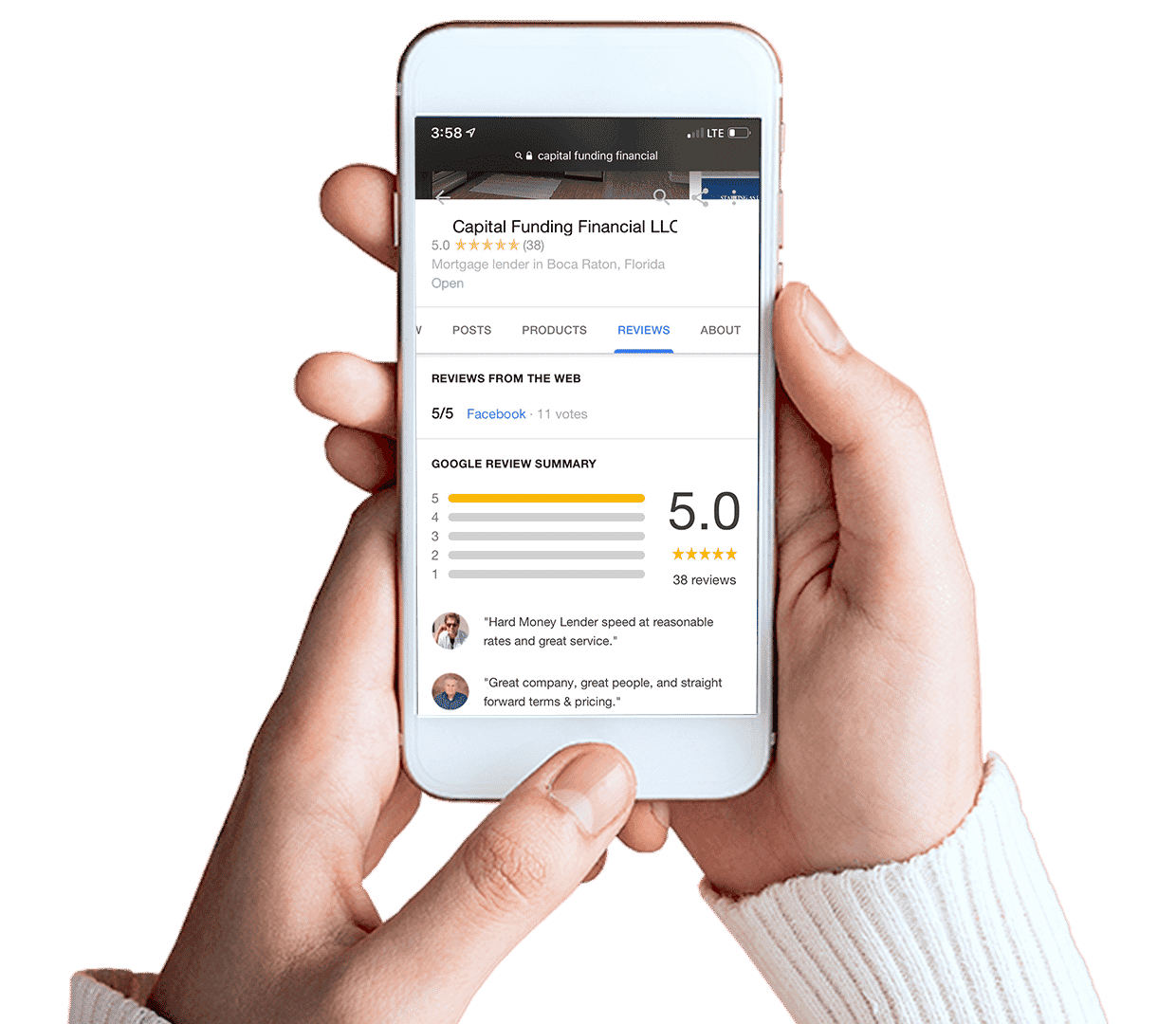 See why our clients love us!
Wanted to just say that the process was really fast and done by a very professional team! I would like to especially say thank you to David and Debora who helped me step by step of the way! Absolutely fantastic!

The go to hard money lender to use for a real estate bridge loan or fix and flip loan. These guys fund all my deals and make the stressful lending process go smoothly. They allow me to focus on what every investor should be focusing on... the renovation and sale. Highly recommend as a seasoned investor with over 25 flips under my belt.

I needed a hard money lender to close on my commercial property when my SBA lender wasn't able to close in time. They stepped up and funded the transaction with no new appraisal in one week. Thanks again for all the help and happy to leave my personal recommendation for anyone looking for a great lender to partner up with.

I heard about Capital Funding Financial through my friend who is a realtor who got started fix and flipping homes in Miami. She used them and I ended up using them on my first flip. Great company and great team of people. The process was easy with a few forms, appraisal, title work, and legal docs. They did not request my income docs since it is an investment property and their head originator is also an attorney so he helped me on some of the questions I had regarding the title issues. Excellent experience and will use them again in the future. Thanks Again David, Debora, and Allison.

Capital Funding Financial provided us with a quick fix and flip loan on our real estate investment property in Tampa. Great Service, Quick Funding, and Easy process. I have closed a few loans with other hard money lenders which took forever but these guys were great. I highly recommend for anyone on the fence on who to go with as they will get your transaction funded smoothly.
Partner With Us & Close More Deals: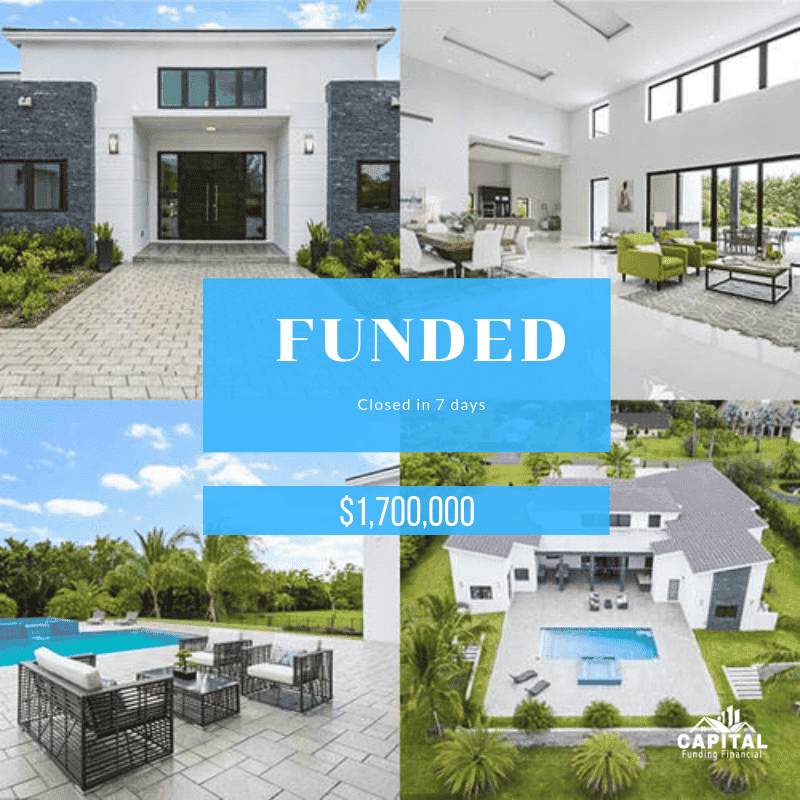 Capital Funding Financial recently financed the acquisition of a luxury single family investment property purchased in Plantation, FL.
Loan Amount of $1,700,000
12 Month Term
Purchase
Plantation, FL
Closed in 7 Days
Recently closed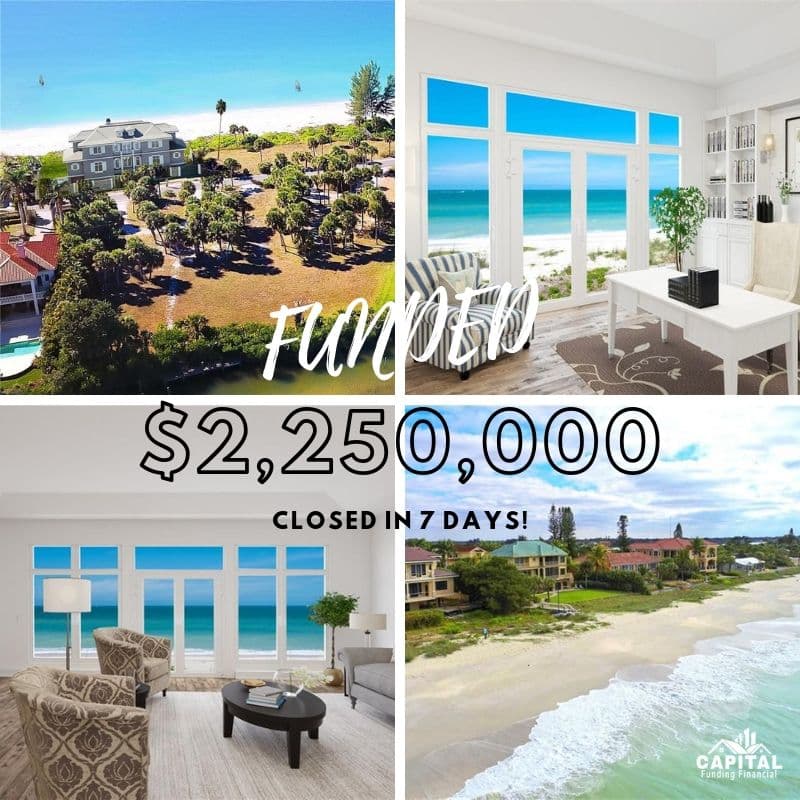 Capital Funding Financial recently refinanced a luxury oceanfront single family investment property in Siesta Key, FL.
Loan Amount of $2,250,000
12 Month Term
Refinance
Siesta Key, FL
Closed in 7 Days
Recently closed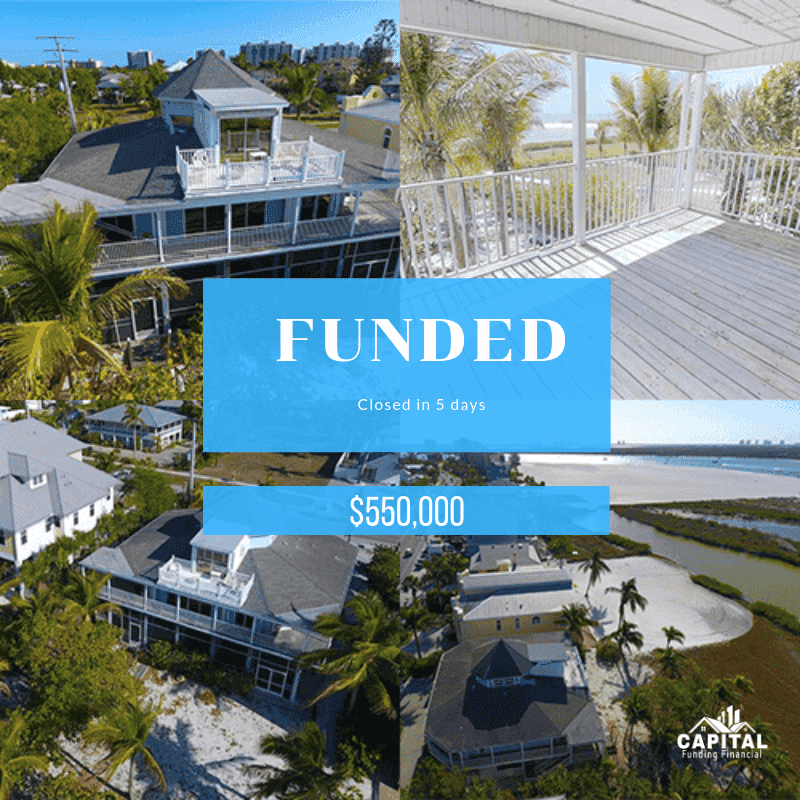 Capital Funding Financial recently refinanced a single family investment property which was completely renovated & rented in Fort Myers, FL.
Loan Amount of $550,000
30 Year Term
Refinanced
Fort Myers, FL
Closed in 10 Days
Recently closed
Ready to Get Started?
With Capital Funding Financial, obtaining a private mortgage loan is easier than you think! Just fill out our simple application and our loan experts will strategically align you with the right program that fits your investment needs.