Fix and Flip Loan Program
A "fix and flip" loan is a short-term bridge loan used to purchase property with the intent to sell it for a profit after the renovations are complete. A fix and flip loan is a great fit in the following situations:
When you need to close fast (Our average time to close is 7 days!)
When the property needs renovations.
When you need high leverage (We offer up to 90% LTC)
When the property is not yet stabilized, leased up, or generating any income.
When you can't provide verifiable income (no tax returns available).
When you only want a short term loan with no prepayment penalty
At Capital Funding Financial, our fix and flip loans close very quickly... even in as little as 7 days! Our fix and flip loans require no personal income verification and very little documentation! Our Fix and Flip loans are a great way to start leveraging your existing capital and generate more income with the ability to close & flip more projects at once!
Program Overview
Loan Amount:
$75,000 – $5 Million
Term Length:
12 – 18 Months
Max LTV:
85%
Max LTC:
90%
Amortization:
Interest only
Interest Rate:
Starting at 7.99%
Closing Time:
7 - 10 Days
Loan Use:
Purchase, refinance, cash-out,
construction, renovation
High Leverage (up to 90% LTC)
Quick closing in 7 Days
Interest-only payments
No Prepayment Penalty
No Income Documentation
Low Credit Requirement (525 minimum)
No Experience Required (Yes, we lend to new borrowers)
What Do I Need To Qualify?
Simple... 525 credit and a loan scenario below 75% ARV
Origination Fee: 1.50% - 2.95% of the loan amount
Processing Fee: $495 - $795
Prepayment Penalty: None
Eligible Properties for Fix & Flip Loans
Single Family
Single Family is classified as one to four-unit residential use dwellings including condominium, P.U.D., townhomes, duplex's, triplex's, and quadplex's. At Capital Funding Financial, we will lend to real estate investors and entities looking to purchase, refinance, fix & flip, or buy to rent from $75,000+.
Multi Family
Multi-family is a classification of housing where multiple units (5+) for residential use are contained within one or more buildings within one community or complex. At Capital Funding Financial, we will lend to real estate investors looking to purchase or refinance multi-family properties with loan amounts of $250,000+.
Mixed Use
Mixed-use is a type of development that blends residential and commercial uses into one integrated complex or building. At Capital Funding Financial, we will lend to real estate investors in the following scenarios: purchase, refinance, bridge to stabilization, bridge to sale, or bridge to construction take out on mixed use projects with loan amounts from $250,000+.
Required Documents for Closing
Purchase Contract
Payoff Statement (if Refinance)
Rent Roll & Leases (if applicable)
Renovation Budget (Download)
Articles of Incorporation
Operating Agreement (LLC) or Bylaws (Corp.)
EIN Letter
Recently Closed Fix & Flip Loan
Capital Funding Financial recently refinanced a single family investment property in Atlanta, GA. Capital Funding Financial closed the loan in less than 1 week!
Loan Amount of $1,575,000
12 Month Term
Refinanced
Atlanta, GA
Fix and Flip Financing
90% LTC and 100% of the Rehab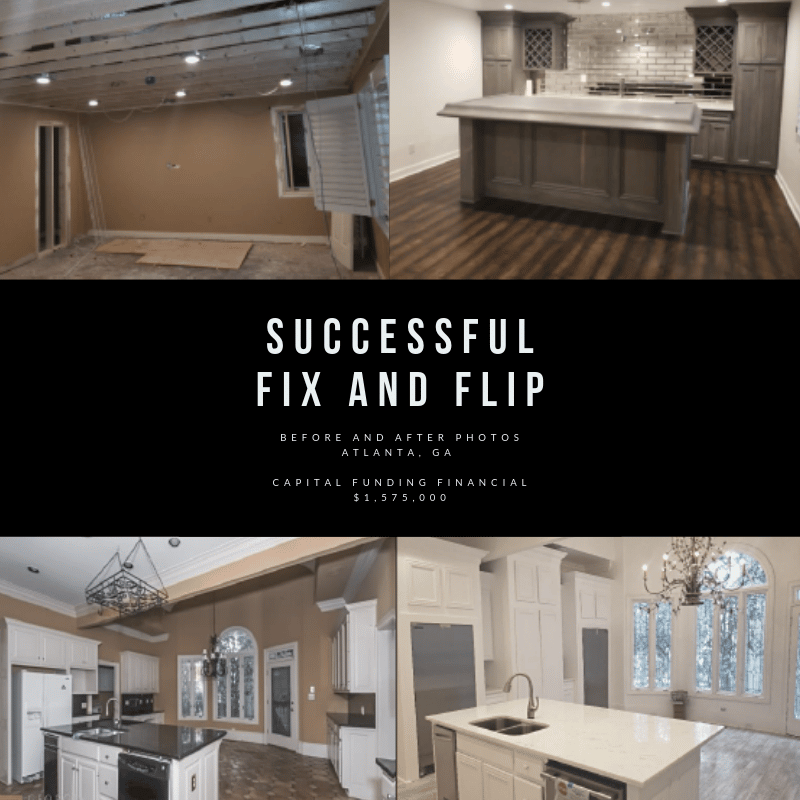 Is a Fix & Flip Loan Right For Me?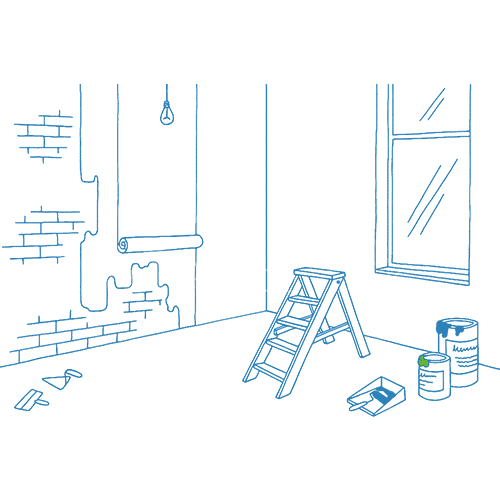 Close in as little as a week!
Benefits of our Fix & Flip Loans:
Close in 7 Days
Up to 90% LTC
No Income Documentation
Low Credit Requirement of 525
No Experience Required
No Prepayment Penalty
Approval Process
Close in as little as 7 Days! From start to finish in 5 easy steps!
Step
Upload Documents & Accept LOI
Step
Appraisal & Title Ordered