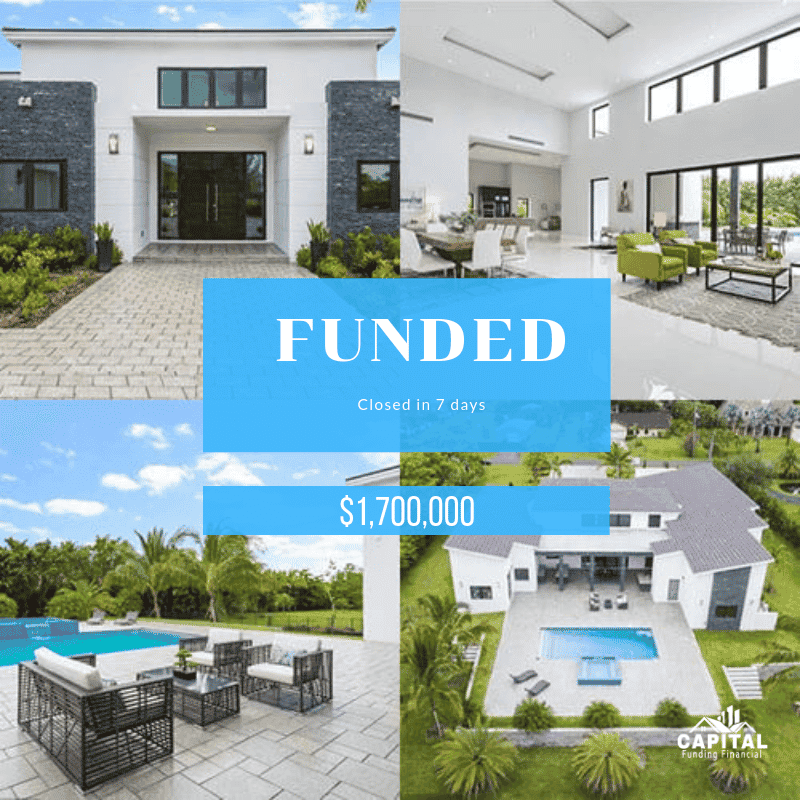 Florida Hard Money Loan closed for $1,700,000 in 2021
through Capital Funding Financial (Pictured above).
Hard Money Lender Florida
12 MONTH TERM | 6.99%+ | CLOSE IN 7 DAYS | 100K – 10 Million+
What is

 a 

hard

money

loan

?
A hard money loan is a loan provided by a lender based solely on the value of the underlying collateral. Where most Florida mortgage lenders base their lending decision on the income and credit worthiness of the borrower… a hard money lender does not! Additionally, hard money loans are usually described as bridge loans or asset based loans used to acquire property or reposition property in order to stabilize it until a more permanent financing solution is available. Hard money loans are available on single family residential, commercial, retail, office, industrial, multi–family, agricultural, and land. 
Why choose a hard money loan or asset based loan instead of a conventional loan offered by the traditional lender? 
There are many reasons why a borrower would choose to use a hard money loan from a Florida lender or private money from a Florida investor over conventional financing:
(1) Quick Closing– conventional banks can take around 45 days to close a typical residential loan, or between 60–90 days to fund a commercial loan, and over 120 days to completely fund a real estate development loan. Whereas, a hard money loan by a hard money lender in Florida such as Capital Funding Financial is funded within 7–14 days.
(2) Renovations are Needed– because of the traditional lender's very conservative underwriting guidelines, most will not lend on properties needing repair. Nevertheless, a Florida hard money lender such as Capital Funding Financial WILL lend on a property that either lacks cash flow or needs renovations to it so long as the borrower has enough equity or experience in the project. For example, a borrower will use a hard money lender to purchase a property at a foreclosure auction or short sale, renovate, and then refinance or sell the property within one year for a great return on their investment. Another example would be a commercial property that has no tenants… a bank will not lend until there is LOI's signed by prospective credible tenants or it is completely leased up. However, Capital Funding Financial as a hard money asset based lender WILL provide a bridge loan to be used by the borrower to buy the property and lease it up. Once the property is stabilized for a certain time period, a permanent financing solution can take out the bridge loan offered by Capital Funding Financial.
(3) No strict credit or income requirement– Conventional lenders rely heavily on a borrower's credit score, income, and a proven ability to repay the debt based on current & past history. However a private money lender or hard money lender will provide common sense underwriting to a situation that banks will overlook. Therefore, there is a huge importance of private lenders who provide financing to individuals and entities who have been turned down by banks yet are still great borrowers. At Capital Funding Financial, we base our funding decision primarily on the LTV (loan to value) or experience of the borrower (in the fix & flip scenario). We generally look for a 60% – 65% LTV on our no income doc hard money loans (with exceptions up to 75%) AND can lend up to 90% on our fix and flip rehab loans with a showing of a strong ARV (after repair value). 
What are

the

interest

rates

involved

in

 Florida 

hard

money

loans

?
Hard money loan rates typically range from 10% all the way up to 15%+. The rate by the lender is determined by taking a look at a mix of variables such as: (1) loan to value ratio, (2) track record & experience, (3) the property state and location, (4) borrower's equity in the property, (5) cash flow of the property, (6) condition of the property. At Capital Funding Financial we offer the lowest rates around starting at 6.99%*
What are

the

fees

associated with

 bridge loans or hard money loans?
Typically, Hard money lenders charge a loan origination fee of 2% to 4% of the amount of the loan. The lender will then charge various fees for file preparation by a lawyer, an application fee, appraisal fee from an independent appraiser, and a loan processing fee. Capital Funding Financial charges a very low origination fee of 2.00%* and offers no junk or hidden fees!
Is there
a
 prepayment 
fee
?
Most of the time… NO! Only when the term exceeds 1 Year do we require a pre-payment in the event the loan is paid off before 6 months. 
How

fast

can

a

typical hard money loan

close

?
At Capital Funding Financial, we are a direct lender and have the ability to close loans within a few days when given a complete loan package (financial report, independent evaluation, & title commitment). The typical deal takes about 1 to 2 weeks to fund from start to finish.
Do I need an appraisal?
Yes, hard money loans typically require broker price opinion, an assessment, or comparative sales analysis. We are a Florida hard money lender who will often waive an appraisal if the property is located in Miami, Broward, or Palm Beach county and is at a low loan to value ratio.
Have any more questions? Please call

 

954-320-0242

or

visit

Hard Money Loan to get a pre-approval Today!
Capital Funding Financial Mortgage Notes:
Florida Hard Money Lender  |  Florida