Hard Money Lender Nashville
Looking for a private money lender in Nashville?
If so, Capital Funding Financial is the perfect lender for you.
Capital Funding Financial is a direct lender offering low rates, no income docs or minimum credit requirement, and the ability to close in 5-7 days.
Capital Funding Financial specializes in asset based private money loans on non-owner occupied investment properties nationwide particularly in Nashville!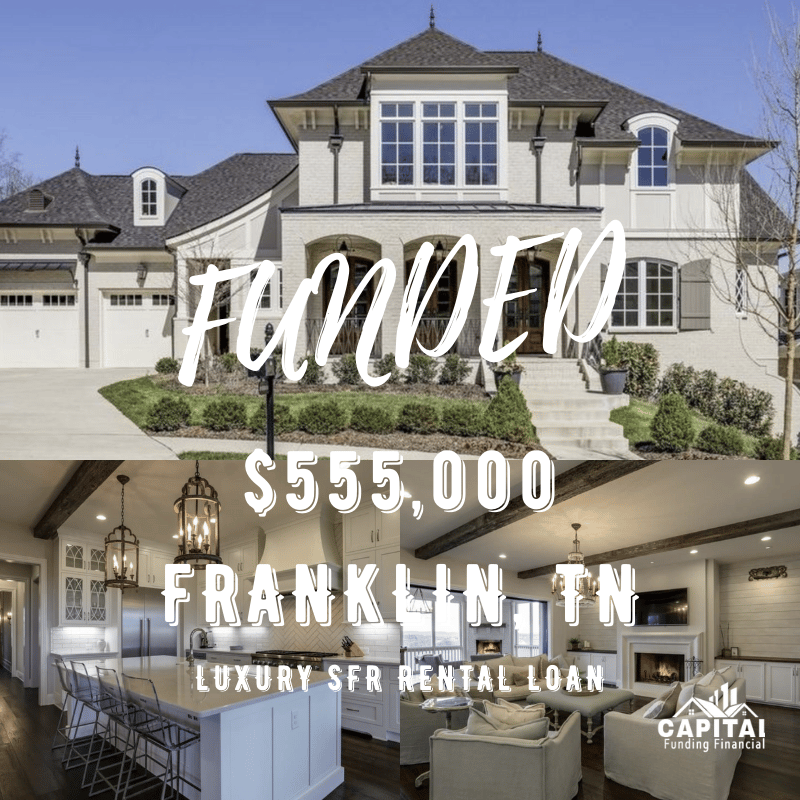 How to find the lowest rate for a hard money lender in Nashville Tennessee
Nashville Hard Money Lending Parameters:
| | |
| --- | --- |
| CLOSING TIME | 7 – 14 days |
| LOAN SIZE | $100,000 to $25,000,000 |
| LTV | Up to 80% LTV |
| LTC | Up to 90% LTC |
| LOAN TERM | 12 to 24 months |
| INTEREST RATES | 6.99% to 11.99% |
| AMORTIZATION | Interest-only payments |
| ORIGINATION FEES | 1.50 to 3.50 points based on location and property, LTV, credit worthiness of the borrower, loan amount and term. |
| LENDING AREAS | Nationwide with the exception of a few states |
What is a hard money loan?
A hard money loan is a loan based primarily on the value of the property and not on the income or credit of the borrower. Where asset based lenders (aka hard money lenders) focus primarily on the value of the asset used as collateral for the loan traditional banks and lenders focus chiefly on the credit and income of the borrower in making their decision on whether to extend credit. Furthermore, where traditional loans are generally for 15–30 year durations, hard money loans are used as a temporary alternative (1–3 years usually) as a bridge to acquire a property, rehab, stabilize it, and have it ready to be sold or refinanced. Hard money loans are provided to all asset classes ranging from commercial, retail, office, industrial, multi–family, or single family residential homes.
Why exactly would a person choose a hard money loan in Nashville (asset–based loan) over a traditional loan provided by a Nashville bank with lower rates?
There are many reasons why a borrower in Nashville would choose to use private financing or a Nashville hard money loan over a more economical traditional financing:
(1) Quick Funding– conventional banks take the absolute minimum of 30-45 days to finance an individual family residential loan and any where between 60–90 days to finance a commercial loan. Whereas, a Nashville hard money loan by Capital Funding Financial is generally funded within 5-10 days.
(2) The Property Needs Work– due to the conventional bank's very conservative underwriting guidelines, most will not lend on properties needing repair. However, a private money lender will be happy to loan on a property that either lacks cash flow or needs upgrades.
(3) No Minimum Income or Credit Requirement– Traditional banks rely heavily on a borrower's credit score, reported income, and the borrower's ability to repay the debt. As a result, traditional banks turn down even strong income borrowers such as doctors, lawyers, and solicitors who have high incomes but also have a lot of debt. So, there is a key role that private lenders such as Capital Funding Financial play in lending to borrowers based on the asset value versus the debt to income of the individual borrower.
What type of properties qualify for Hard Money Loans from Capital Funding Financial?
Single Family (Investment)
Duplex, Triplex, Quadplex
Large Developments
Condo Conversions
Multi-Family Properties
Mixed-Use Properties
Commercial Properties (Office, Retail, Industrial)
How long is the term of the hard money loan?
Typically hard money loans or bridge loans are 12 months. However, Capital Funding Financial offers hard money loans for up to 36 months (24 month term with up to a 12 month extension).
How fast can Capital Funding Financial close?
In some cases, Capital Funding Financial can close within 48 hours where title, valuation, and insurance are in place! The average turn around time is 3 to 7 business days.
How can I qualify for a hard money loan with Capital Funding Financial?
Simple… you just need equity in your property if you are refinancing OR if you are purchasing you will need to put down at least 15 – 20%. It is common practice to have a entity to purchase the property in to ensure it is for "business/commercial purpose."
Here is what our Nashville customers say about us:
We provide hard money loans throughout the Nashville Metropolitan Statistical Area (MSA) including but not limited to Brentwood, Goodlettsville, Mount Juliet, La Vergne, Franklin, Smyrna, Gallatin Tennessee.
CLOSED HARD MONEY LOAN NEAR NASHVILLE TENNESSEE
RATES STARTING AT 8.99%*+ ON HARD MONEY LOANS,
RATES STARTING AT 6.99% ON RENTAL INVESTMENT LOANS,
RATES STARTING AT 8.99% ON FIX AND FLIP LOANS!
LOW ORIGINATION FEES & NO PREPAYMENT PENALTY!
1-3 YEAR TERM INTEREST ONLY 
UP TO 80% LTV! UP TO 90% LTC!
QUICK & EASY CLOSINGS IN LESS THAN 7 DAYS
NO VERIFIED INCOME DOCS REQUIRED OR TAX RETURNS NEEDED
LOAN AMOUNTS OF $100,000 UP TO 25 MILLION
LENDING AVAILABLE NATIONWIDE ON COMMERCIAL & SINGLE FAMILY NON OWNER OCCUPIED PROPERTIES