The #1 Michigan Hard Money Lender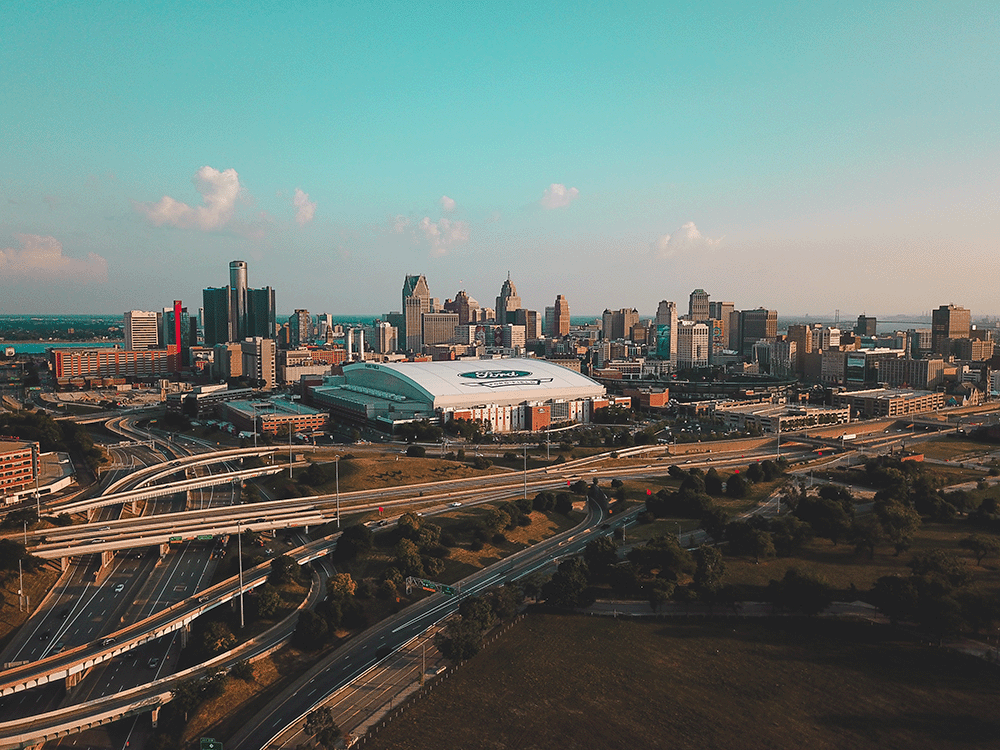 (A+ Rated with BBB | Hundreds of Closed Loans | Direct Lender)
How to find the lowest rate for a hard money lender in Michigan:
RATES STARTING AT 8.99%*+ ON HARD MONEY LOANS,
6.99%+ ON RENTAL INVESTMENT LOANS,
AND 7.99%+ ON FIX AND FLIP LOANS!
LOW ORIGINATION FEES STARTING AT 1.50% (can be reduced with a rate adjustment)
1-3 YEAR TERM INTEREST ONLY 
30 YEAR TERM AVAILABLE ON RENTAL PROPERTY LOANS
UP TO 80% LTV!
UP TO 90% LTC!
NO PREPAYMENT PENALTY* 
QUICK & EASY CLOSINGS IN LESS THAN 7-10 DAYS
NO VERIFIED INCOME DOCS REQUIRED OR TAX RETURNS NEEDED
MINIMUM LOAN AMOUNT OF $100,000 UP TO 25 MILLION
LENDING AVAILABLE NATIONWIDE ON COMMERCIAL & SINGLE FAMILY NON-OWNER-OCCUPIED PROPERTIES
The #1 Hard Money Lender in Michigan 
The real estate market in Michigan  can be highly competitive and prices can vary significantly depending on the location. Some neighborhoods and cities within the Detroit Michigan  metropolitan area may be more attractive for real estate investment due to factors such as their location, local amenities, income levels, demographics, and potential for appreciation.
With a population of over 650,000 in the Detroit metro area with iconic buildings and a rich history make it one of the most desirable areas to live in the midwest.
Here are some of the top rated cities and neighborhoods to consider for real estate investment in Michigan :
Garden City: Garden City has seen a 61.4% increase in sales price in the last 5 years. Garden City is robust with Retail and Health Care employment and strong income. Garden City's unemployment rate is well below the national average, while the spending per student is above the national average, preparing success for Garden City residents for now and for the future.
Livonia: Livonia is one of the largest cities in Michigan at 36 miles in size. Livonia is home to 5 universities with a median home value of $200,000. Unemployment rate is almost half of the national average (3.4%) with employment sources such as Ford Motor and General Motors nearby, making Livonia a beneficial community to invest in. Home values have raised by more than 12% in the past year.
Harper Woods: Harper Woods is a city located in Wayne County, and boarders St.Clair Shores, and upscale Grosse Pointe. Harper Woods is a small community with a vibrant shopping mall and restaurants providing a lot of economic growth in the area. Harper Woods is home to one of the first outdoor shopping malls ever built, Eastland Mall. Harper Woods home values have raised almost 12% in the past year, and offer a great return on your investment.
Dearborn: Dearborn is the eighth largest city in Michigan. With more than 100,000 residents it is home to the large auto & steel manufacturing industries. The city is a regional center for employment, healthcare services, higher education, shopping and transportation along with outstanding cultural attractions. Dearborn's cost of living is 17.00% Lower than the U.S. average so it is a great place for real estate invstors.
Westland: Westland is located about 16 miles west of downtown Detroit. Average listing prices for city of Westland are around $150,000 with Median Gross rents at about $1,200 month.
Roseville: Roseville is a city that is home major employers in the automotive, military, printing, paper recycling, and industrial sectors. Real estate sales have increased about 10% in the last year. There are currently 55,000 plus residents in Roseville and growing.
Taylor:  Taylor has an excellent school system, churches, parks, golf courses, recreation center, library, and a top healthcare system with the area's top hospital. The unemployment rate in Taylor, Michigan, is 6.80%. Future job growth over the next ten years is predicted to be 40%.
Dearborn Heights: Dearborn Heights provides excellent schools, close-knit neighborhoods, low crime rate, affordable housing, and a wide selection of shopping areas. The crime rate in Dearborn Heights is 11% lower than the national average and offers a great opportunity for a family centered neighborhood with job growth.
Redford: The Township of Redford is roughly 11 square miles and is home to approximately 48,362 people. Redford's unemployment rate is 4.1% lower than national average and the cost of living is 17.3% lower than national average. Home Values are up 12% recently and predictions are that values will continue to rise in Redford.
Inkster: The City of Inkster is 6.25 miles with a population of about 30,000. Median sales price are up $50,000 and is considered an up and coming neighborhood.
Eastpointe: Eastpointe (formerly East Detroit) is a city in Macomb County in Michigan. The current population is over 40,000. Eastpointe borders on 8 Mile Road on the northern edge of Detroit and offers steady job growth and low housing prices compared to other cities.
Warren: Warren is the largest city in Macomb County with over 150,000 citizens.  There is huge rent growth in comparison to the cost of the the properties with many properties under 100,000 bringing in rent at $900/month. The largest employer in the city is General Motors, which employs 17,000 employees, followed by TACOM and Chrysler, all being automobile manufacturers.
All of these neighborhoods have experienced strong rent growth and appreciation over the last few years averaging double digit returns in both categories. Rent Growth and Appreciation are the two major keys for investing in Detroit Michigan real estate as a long term investor.
Additionally, the other surrounding large cities near Detroit Michigan which are experiencing wide scale rent growth and appreciation are:
Midtown: This is a popular area for young professionals and students, with a vibrant arts and culture scene, as well as many restaurants, bars, and shops.
Corktown: This is one of the oldest neighborhoods in Detroit and has a charming, historic feel. It is home to many popular restaurants and bars, and is just a short distance from downtown.
Brush Park: This is a historic neighborhood that is undergoing revitalization. It is home to many Victorian-era homes and is just a short distance from downtown and Midtown.
Eastern Market: This is a bustling neighborhood known for its vibrant farmers market and many art galleries, restaurants, and shops.
Palmer Woods: This is a upscale neighborhood known for its beautiful, large homes and tree-lined streets. It is located in the northwest part of the city.
Once you have found the right property in the correct location you will need to obtain a reliable and cost-effective source of financing for the project.
If you are looking for a Detroit Michigan  private money lender who can offer low rates, close quickly, and not require any income docs or a minimum credit score, Capital Funding Financial is the perfect hard money lender in Detroit Michigan  for you.
Capital Funding Financial specializes in asset based private money loans on non-owner-occupied investment properties nationwide particularly in states such as Detroit Michigan . Capital Funding Financial is backed by a Family Office with over 1,000 Single Family Developments built across the United States and over 250 million deployed in loans.
If you are a real estate investor, developer, mortgage broker, or individual in Detroit Michigan  who needs a FAST, RELIABLE, & HONEST PARTNER for rental investment, commercial, or multi-family properties… Contact us today for a complimentary consultation.
We would like to provide you a pre-approval letter and soft quote for your particular scenario.
APPLY NOW & GET PRE-APPROVED TODAY
FAQ'S
What is a hard money loan?
A hard money loan is a loan based primarily on the value of the property and not on the income or credit of the borrower. Where asset-based lenders aka hard money lenders in Detroit Michigan  focus primarily on the value of the asset used as collateral for the loan traditional banks and lenders focus chiefly on the credit and income of the borrower in making their decision on whether to extend credit. Furthermore, where traditional loans are generally for 15–30-year durations, hard money loans are used as a temporary alternative (1–3 years usually) as a bridge to acquire a property, rehab, stabilize it, and have it ready to be sold or refinanced. Hard money loans are provided to all asset classes ranging from commercial, retail, office, industrial, multi–family, or single-family residential homes. Hard Money loans are similar to loans on chattel in other countries but in the US they are primarily associated with real estate loans based primarily on the asset value.
Why choose a Detroit Michigan  hard money loan over a conventional loan?
(1) Quick Funding– conventional banks take the absolute minimum of 30-45 days to finance an individual family residential loan and anywhere between 60–90 days to finance a commercial loan. Whereas a Detroit Michigan  hard money loan by Capital Funding Financial is generally funded within 5-10 days.
(2) The Property Needs Work– due to the conventional bank's very conservative underwriting guidelines, most will not lend on properties needing repair. However, a private money lender will be happy to loan on a property that either lacks cash flow or needs upgrades.
(3) Not based on credit or income– Traditional banks rely heavily on a borrower's credit score, reported income, and the borrower's ability to repay the debt. As a result, traditional banks turn down even strong income borrowers such as doctors, lawyers, and solicitors who have high incomes but also have a lot of debt. So, there is a key role that private lenders such as Capital Funding Financial play in lending to borrowers based on the asset value versus the debt to income of the individual borrower.
What type of properties qualify for Hard Money Loans?
Single Family (Investment)
Duplex, Triplex, Quadplex
Large Developments
Condo Conversions
Multi-Family Properties
Mixed-Use Properties
Commercial Properties (Office, Retail, Industrial)
How long is the term of the hard money loan?
Typically, hard money loans or bridge loans are 12 months. However, Capital Funding Financial offers hard money loans for up to 36 months (24-month term with up to a 12 month extension).
How fast can hard money loans close?
In some cases, Capital Funding Financial can close within 48 hours where title, valuation, and insurance are in place! The average turnaround time is 3 to 7 business days.
How can I qualify for a hard money loan?
Simple… you just need equity in your property if you are refinancing OR if you are purchasing you will need to put down at least 15 – 20%. It is common practice to have a entity to purchase the property in to ensure it is for "business/commercial purpose."
Are Hard Money Loans a Good Idea?
Yes… hard money loans allow real estate investors the flexibility to close quickly without having to go through a long and extensive underwriting process.
How do Hard Money Loans Work?
Hard money loans focus solely on the ratio of the loan amount to the value of the property. The higher the leverage the more the risk, whereas the lower the leverage the safer the transaction.
What is the average interest rate on hard money loans in Detroit Michigan?
Most hard money loans range from 10% – 12% interest rates. However, Capital Funding Financials' hard money loan rates in Detroit  start at 6.99%.
Do hard money lenders require a down payment?
On purchase transactions, yes. At least 10% is required.
WHAT LOAN DOCUMENTATION DO YOU NEED TO QUALFY FOR A HARD MONEY LOAN IN Detroit Michigan ?
For Purchase Transactions:
Loan Application & Disclosures
Driver's License or Passport (ITIN number if you are a Foreign National)
Purchase Agreement and any addendum(s)
Proof of Earnest Money Deposit with check or wire receipt
2 Months Bank Statements to show the necessary cash to close and liquidity
Entity Docs – Articles of organization, Operating agreement or Bylaws, EIN #, CDD Form, Corporate Resolution
ACH Setup Form
Title Commitment, Survey, HOA/Condo Questionnaire (if applicable), E&O, Wire Instructions, Confirmation of GAP Coverage, CPL, Draft Deed, HUD
Evidence of Insurance – RCE/Insurable Value Required for Dwelling Coverage and 6 Months Loss of Rent Coverage
Appraisal Payment (Appraisal or BPO to be Ordered by Capital Funding Financial) – If you need to rush we can waive this condition if the equity is there!
Lease Agreement (if applicable)
For Refinance Transactions:
Loan Application & Disclosures
Driver's License or Passport (ITIN number if you are a Foreign National)
Payoff Statement or Mortgage Statement (if applicable)
1 Months Bank Statement to show current liquidity
Entity Docs – Articles of organization, Operating agreement or Bylaws, EIN #, CDD Form, Corporate Resolution
ACH Setup Form
Title Commitment, Survey, HOA/Condo Questionnaire (if applicable), E&O, Wire Instructions, Confirmation of GAP Coverage, CPL, HUD
Evidence of Insurance – RCE/Insurable Value Required for Dwelling Coverage and 6 Months Loss of Rent Coverage
Appraisal Payment (Appraisal or BPO to be Ordered by Capital Funding Financial) – If you need to rush we can waive this condition if the equity is there!
Lease Agreement (if applicable)
HOW LONG DOES THE HARD MONEY LOAN PROCESS TAKE TO CLOSE IN DETROIT MICHIGAN?
Once we have received the Appraisal, Title Commitment, and Insurance we will the loan to Final Underwriting. Upon review of the loan file by our Underwriter, we will submit to Legal for Loan Documents pending any Clear to Close Conditions.
At Capital Funding Financial, we close loans in 1/3 of the time it takes to close a conventional mortgage loan! Our quick and easy loan process eliminates the stress and hassle that has plagued the mortgage lending industry for years. You will be able to leverage your capital, grow your portfolio, and enjoy better cash flow using Capital Funding Financials' Detroit Michigan  hard money loan program!
"Hard Money Lender Detroit Michigan"
We provide hard money loans throughout the Detroit Michigan Metropolitan Statistical Area (MSA) and the rest of the great state of  Michigan.
If you're in need of a hard money loan for a rehab project, fix & flip, or rental investment loan, please contact us today at 954-320-0242 or toll free at 1–866–695–0092 or visit Hard Money Loan for more info.