How to complete a Hard Money Loan Application
(for Rental Properties, Fix & Flips, and Commercial Properties)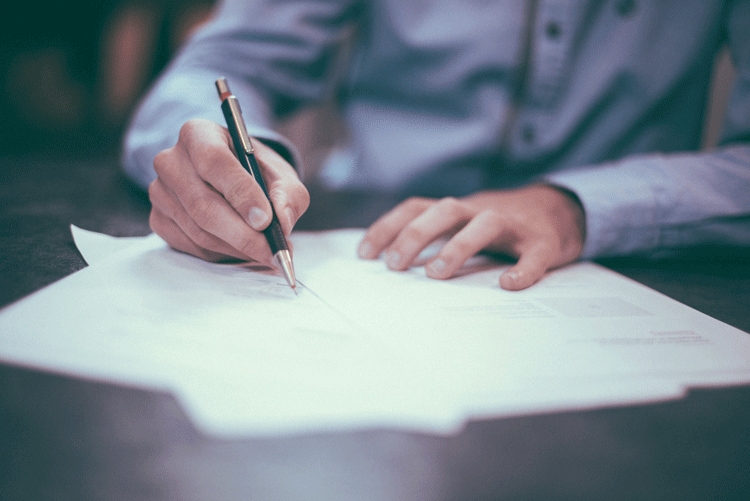 Today we'll be discussing how to complete the loan application for hard money loans, rental loans, and fix & flip loans properly.
The application is used for various loan programs such as hard money, rental, fix and flip, bridge, ground up construction, as well as our commercial loan programs.
Upon clicking on the loan program, you'll find a list of all of our documents which are required for the loan submission process. For instance, our underwriting checklist, which has a clear breakdown of what items are needed for submission by a borrower or by a broker.
I'm gonna start by going through our borrower certification and authorization form. This is a form that gives authorization for us as the lender to pull credit background and verify the credit information of the applicant. For this form, we are going to need the borrower to wet sign or e-sign with trailing verification as well as put in their social security number or ITIN and date the form. This must be delivered upon receipt of the initial loan application prior to full submission of the file.
Capital funding Financial complies with all fair lending laws including but not limited to the Equal Credit Opportunity Act, the Home Mortgage Disclosure Act, the Fair Credit Reporting Act, the Fair Housing Act, and the Americans with Disability Act. A summary of which all can be found in the disclosures in our loan application as well as on our website. Capital Funding Financial provides private money loans for commercial and business purpose mortgage loans. Capital funding financials products include first liens or deeds of trust against residential and commercial assets throughout the country.
I'd like to take the time to go through the initial loan application.
The very first field is a field that will have a dropdown menu on whether the borrower is a repeat borrower or not. Please check yes or no in that box. The next field is the individual's name. Please include the first and last name followed by marital status, yes or no. Next, please put in the borrower's phone number both on the home phone or cell phone. If they are identical, please fill in the borrower's email address. Please put in the date of birth and make sure that the date of birth matches with the identification of the borrower that is provided.  Additionally, put in the social security number or for our foreign national borrowers, please input the ITIN number. We do require an ITIN number for all foreign national borrowers on our rental, Fix and Flip Program, and higher lever leverage traditional bridge program. We do not require an ITIN for our hard money program.
Next, please include the number of years at the primary. Please disclose whether or not the borrower owns or rents their primary. If they do rent, please include a copy of the lease and two months utility bills. Please provide the stated annual income, the stated liquid assets, the estimated credit score. Again, we will pull our credit upon receipt of the signed disclosures internally.
Please indicate whether the borrower is self-employed or a W2 wage earner. Please indicate what the mailing address of the borrower is. It is a red flag it the subject property address listed below matches the mailing address or primary address of the borrower.
Again, we lend only on non-owner occupied properties. Thus this would be a stopping point and require a letter of explanation and further disclosures for our underwriting team to proceed.
Next, please indicate what the employer's name is as well as the borrower's position or title In that company. Please provide the employer's address and the employer's phone number. Capital Funding Financial offers stated Income loan programs. Thus, verification of income is not required. However, the ability to pay and repay the loan and the investor's experience and profile will be considered in the overall evaluation of the loan.
For our rental program, it becomes important what the DSCR requirement is or the cash flow on the property. This will play a vital role and a main compensating factor in the decision on whether to approve the loan.
There will be no debt service requirement on our hard money program and bridge loan programs.
Now it's time to fill out the subject property address. When considering the subject property address and the eligible collateral Capital Funding Financial lends on the following collateral:
attached and detached single family houses,
two to four family residential properties,
condos,
town homes,
PUDs,
manufactured homes,
modular homes,
and leasehold estates.
We do not facilitate financing on a property where the property will be converted such as single family to duplex, duplex to fourplex tenant and common conversions or multi-unit condo conversions without loan committee approval.
Please fill out the subject property address followed by the number of units on the subject property address and whether the property will be cross collateralized with other properties.
lease indicate whether it is a high rise condo (our definition of a high rise condo is six units or more)
Next please indicate the property type, the occupancy on the property and whether it is vacant or occupied.
Indicate whether the estate will be held as "fee simple" or "leasehold" and whether or not there is an additional dwelling unit located on the property.
If the property is a condo, it's important to request a condo questionnaire. This is because condominiums have specific risks outside of the borrower's profile, such as the financial stability and viability of the project, the condition and marketability of the condo project, as well as limitations on the owner's ability to control the decision making for the project, occupy the unit, lease out the unit, utilize the project's amenities and common elements as well as project level litigation and many other issues that can pop up. So it's important to get a condo questionnaire from the start when dealing with any financing request on condominiums or HOAs.
Next, in the loan request information tab, please put in the estimated close date or requested date. Additionally, put in the transactional type and the loan program whether it is our rental program, our hard money program, our traditional bridge program, or our fix and flip program.
Please put the loan term request, whether that be 12 months, 24 months, or our one of on one of our 30 year programs.
Next include the estimated property value. A safe way to estimate this is to go to Redfin or to Zillow or House Canary and look at what the estimated value is for purposes of completing the loan application.
Next, include the loan request amount, capital funding financial lends up to 80% loan to value and in many cases 90% loan to cost. The lower of the two (LTV or LTC) will be used on our traditional bridge program. For our hard money program, we lend up to 65% loan to value which can close in just 7 days!
Next, please indicate what title the property will be held in such as ABC LLC or John Doe, an individual. Please advise whether or not there will be rehab financing requested in the transaction, and if rehab financing is requested, how much that amount will be.
If the property is held in an entity, we will need to input what the entity name is, the state of formation, the entity type (whether it be an LLC, a trust, a corporation, and the EIN/Tax ID (via a letter from the IRS).
One important note on entities is to obtain the good standing certificate of the state of which the organization of the entity was completed in. For instance, many corporations are formed in the state of Delaware, Wyoming, Nevada, but yet are purchasing properties or conducting business in other states such as Florida. You would need a good standing certificate in the state of incorporations such as Delaware, and then register that entity with the Secretary of State, for instance, on sunbiz.org as a foreign entity filing. Please do not wait on this. This can take a week, two weeks, sometimes even longer with certain states. You would need to contact the Secretary of State and make sure that you file the appropriate documentation to register that entity in the state of which the properties are being purchased and procured in.
It is also important to note that capital funding financial does not lend to irrevocable trusts,  Land Trusts, and Series LLCs on our traditional bridge, fix and flip, and rental programs. We do allow for such exemptions on our hard money program.
We also allow for inter vis revocable trusts in Florida on our hard money program, but not on our traditional bridge, fix and flip, or our higher leverage rental program.
We require that the Borrower be in the name of a entity in Georgia. Additionally, in the state of Michigan and e vios revocable trust is not allowed on our traditional bridge rental or fix and flip program. However, it is allowed on our hard money program.
We require all properties be held in a legal US entity and a list of all of eligible investors is found on our website. We lend to US citizens, permanent residents, non-permanent residents, foreign nationals, revocable trusts, IRA LLCs and  self-directed IRAs.
One point of emphasis when lending to a trust, please obtain the copy of the trust agreement and the certification of trust at which point a new certification may be executed prior to closing to verify that the trustee has the authority to sign on behalf of the trust.
For entities, please obtain a copy of the articles of incorporation organization, a fully executed bylaws or operating agreement, including a breakdown of all the members and the signing authority via the resolution. Additionally, make sure you obtain that EIN number as well.
In the next section, please indicate the purchase price of the property, whether or not the offer is accepted or not and if the property is an off market purchase? The original cost of the property, that the date on which it was originally acquired, and the amount of rehab completed.
Was the property inherited, yes or no?
Is there any subordinate financing on the property? Meaning is there a second or third mortgage behind a first mortgage on the property?
How do you intend to use cash out proceeds? Please explain in detail this is important. A cash out loan is defined as an investor receiving greater than $5,000 at closing, at which point the cash out proceeds must only be used for business purpose. The investor must confirm how the proceeds will be used in this section. Please have this completed in detail and if there is any question whatsoever as to the cash out proceeds, please provide a additional letter of explanation. No cash out proceeds can be used for individual, consumer, family or household uses. Some examples of ineligible use of cash out proceeds would be, for instance, paying off personal credit card debt, paying off personal tax liens regardless of whether they appear on title or not. If the personal tax lien appears on title, they must be paid with the investor's own funds. Other examples are paying off judgments or collections, paying off student loans, paying off medical debt, acquisition of a primary residence.
Please confirm if this is eligible as a delayed purchase? A delayed purchase is defined as a transaction in which a property was purchased within the last 90 days of the original disbursement date. Delayed purchase transactions are used by sponsors to take out equity of the subject property in the form of cash out proceeds to recoup initial investment funds. This allows the loan to be defined as a "rate and term refinance" for leverage and pricing purposes internally, even though the investor is getting cash out.  At capital funding, we require the following criteria for the property to be eligible for a delayed purchase.
The original purchase was an arms length transaction.
The original purchase was documented by a settlement statement confirming that the investor did not utilize mortgage financing, meaning they paid cash.
The preliminary title search confirms that there are no existing lien attached to the subject property.
The source of the funds for the original purchase transaction can be documented.
Delayed purchase loan amounts are limited to the standard loan to value limits in our guidelines, which is not to exceed 90% of the original purchase price documented on the original settlement statement.
In the next section we're gonna be covering rental properties. In the event that this is not a rental property, just simply put NA in the remaining fields. For this section, we want to find out if the property is occupied and the current or projected monthly rental income. We use in place rents or market rental analysis as described by the appraiser.
The next question is, do you plan to increase rents in the future? Simply mark, yes or no. And if so, how much? If increasing rent, explain the strategy of which you're going to increase rent.
Is the property classified as a section eight housing? How will the property be managed, whether it be self-managed or by a property management company?
Are there any known existing environmental issues such as mold or radon gas?
What is your plan for this property? For instance, if it's a rental property, you're purchasing it as a rental property for future appreciation and cash flow. You would simply state that in this section. If it's a property which you're purchasing to renovate and then sell, you would advise as to what the potential turnaround time will be and as well as what you're looking to do, whether it's new kitchen, new flooring, new bathrooms, etc.
Do you intend to rehab or upgrade the subject property? You would simply state yes or no.
Has work rehab or demo already begun or been completed on the on the subject property? Yes or no.
Please explain your investment strategy, which should be very similar to your plan for the property.
What is your exit strategy and how do you intend to repay this loan? Simply refinance or sell. It's really the only two options as far as exit strategy, but give a little more detail on how you plan on doing that.
What is the anticipated hold time? Typically fix and flip properties or renovation properties are held for four to six months while the work is being completed and then sold. Rental properties are going to be held for longer term, but may require stabilization to be eligible for the rental program.
Thus, in this bridge strategy, you would say a purchasing the property, updating it, and then refinance onto a long-term rental program.
Please explain the scope of work. If costs exceed $10,000, please provide an itemized rehab budget, which we provide a sample of in our forms section.
For renovation projects, it's important to touch on a few different things. The description should include, but not be limited to an explanation of:
the overall goal and vision for the project,
what area of the existing structure is being expanded if applicable,
what the new legal square footage of the property will be if adding additional square footage,
what the updated floor plan will look like,
maybe some plans or renderings of that floor plan,
specifications of the design and style of the house, both on the interior and exterior,
whether or not the finishes will be high end, average or low end, and include a spec sheet with that.
We also require for renovation projects a contractor and builders owners experience form.
Also, there should be detail on whether there's any existing unpermitted additions or structures you intend to obtain permits for in order to make them legally conforming as well as a timeline for obtaining permits and how long the total project will take to complete.
One of the most important sections on the loan application form is the declarations page. This we need to simply have marked "yes or no" in each one of the following questions:
Are there any outstanding judgements against you? Yes or no?
Have you declared bankruptcy in the last seven years? Yes or no?
Have you or any other entity of which you were a principal of been in a foreclosure or had any property that was foreclosed upon? Yes or no?
Are you a party to a lawsuit? Yes or no?
Are you presently delinquent on any federal debt or any other loan, mortgage financial obligation bond or loan guarantee? Yes or no?
Have you been ever been convicted of a felony within the past 10 years? Yes or no?
Are you in a civil union or a domestic partnership or do you have a non borrowing spouse?
Are you a designated beneficiary agreement? Yes or no?
Are you a US citizen? Yes or no?
If you're not a US citizen, are you a permanent resident, a non-permanent resident, or a foreign national?
Do you intend to occupy the property as your primary residence, yes or no?
Just to touch on a few points, if there are any yes's answered… Please provide a Letter of Explanation.
We can get comfortable with different things and not every answer yes or no will be a hard stop.
I will say that if you answer yes to "do you intend to occupy the property as your primary residence?" That is a a a hard stop for us as a business purpose lender.
Another question that comes up in certain circumstances is whether or not you're a convicted felon, if you're eligible for financing? For us, we look at it as what is the basis of the felony and when was the felony? For instance, we've been comfortable with lending to DUI borrowers in many cases. However any sexual assault or financial crimes such as misappropriation of funds, fraud, racketeering, money laundering, or crimes that deal with "moral / financial dishonesty" would be automatic denials from our committee.
The next section is the notice of right to receive a copy of the appraisal. Please sign and acknowledge this section right here.
Additionally, information for government monitoring purposes… please check the appropriate boxes.
Please sign and state the declaration of non-owner occupancy and business purpose on the use of proceeds.
Please sign and date the investor experience portfolio section listing the current schedule of real estate owned. Please put the address, the entity or individual name you held that in, the percentage of ownership on the property, your acquisition date, the investment type, the property type, the present value of the property, whether or not there's a mortgage on it, and if rented out the gross rental income.
This concludes our thorough review of "How to complete a Hard Money Loan Application."
We look forward to working with everybody in future transactions and if there's any questions, please email us at Email or call us at (954) 20-0242.
We're happy to walk you through any questions you may have on the loan application or submission process.